Well the place where i do some voluntary work, had this Samsung CLX-3175FW Color Laser printer for some years now and the unit i starting to show to following warning: "replace imaging unit soon" from the old days doing repairs on different printers at the university, i found that a lot of manufacturers place small fuses, software counters that are supposed to make the user replace different parts in the printers normally these parts are quite expensive, some of these "errors" can sometimes be reset without that much work, and the this was one of them.
What you needs is the following:
A Solderings iron
A 56Ω 0,25watts resistor
Let's get to work.First thing is to take all the color cartridges out of the printer and place them somewhere safe (be sure not to drop the color powder on anything)
next thing is to remove the wast toner box in the left side, now remove the imaging unit.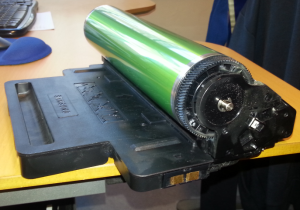 you should se 2 cobber contacts in the right side of the imaging unit, this small device can be removed from the unit.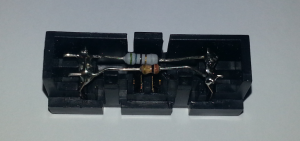 inside the unit that i took apart, there where 2 resistors, the small one, is actual just a  "sense" function that makes the printer aware if the unit is not installed, in my case the resisitor was a 140KΩ, the larger resistor was a 56Ω but this resistor was burned and did no longer function. So this resistor functions as a "new" device put into the printer, the printer then burns this resistor to reset the imaging unit counter.
a quick trip to the storage with a new 56Ω resistor, i removed the old one and soldered the new inside the unit, i used a 1% resistor as this was the only type that i had.
i then put the unit back into the imaging unit, and cleaned the unit for any excess toner, and dust.
then i put everything back into the printer and powered the unit on.
i printed a report for the unit and wolia 🙂 the printer now thinks the imaging unit is new.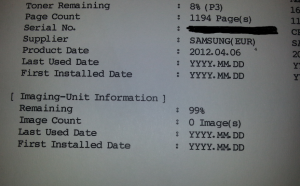 i den took the unit apart again and checked the resistor, somehow the printer didn't burn i properly so i remove the resistor , just to be sure that i didn't break anything, maybe the original samsung placed resistor is easer to burn?, but hey what the heck it did the job.
This fix/hack cost around 0.50DKR, and a new imaging unit cost around 900-1100DKR so witch one do you chose?.